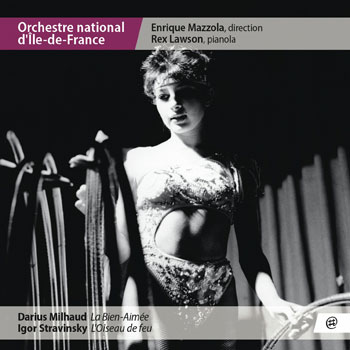 CD of La Bien-Aimée, published by NoMadMusic, NMM 051.
Finally Darius Milhaud's lost ballet has returned to the world! After a series of concerts in Paris in 2016, with Enrique Mazzola and the Orchestre National d'Île de France, a CD was recorded, and this was published in May 2018 by the French recording company, NoMadMusic. The ballet suite is based on waltzes by Schubert and Liszt, with exciting orchestrations by Milhaud, and - very importantly for us - the solo instrument in this larger than life musical creation is an Aeolian Pianola! Our own Rex Lawson re-created the three music rolls from the original score and added a pianola part in the final movement, including a suitably Francophone cadenza.
To listen to an excerpt from La Bien-Aimée, click on the link below, and if you want to purchase a CD or download the tracks, simply Google "Milhaud Bien-Aimee", and any number of music providers will be listed, including Amazon, Spotify, iTunes and many more. If you are interested in the historical background to this project, then simply continue reading!
MILHAUD: La Bien-Aimée, Part of Valse III, [1.7 Mb]
Orchestre National d'Île de France - September 2016, Paris.
Excerpt from a recording made by the Orchestre National d'Île de France, conducted by Enrique Mazzola, with Rex Lawson as the pianola soloist.
The audio recording is the copyright of NoMadMusic, 2018.
The History and Music of Darius Milhaud's Ballet, La Bien-Aimée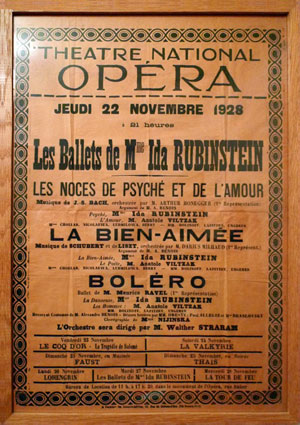 The Première of La Bien-Aimée, 22 November 1928, Paris Opera.
In 1927, Darius Milhaud was asked by Ida Rubinstein, the world-famous ballerina from the Ballets Russes, to orchestrate and arrange a number of waltzes and other pieces by Schubert and Liszt, including some of the renowned Soirées de Vienne. The plot of the intended ballet, to be called La Bien-Aimée, was devised by Alexandre Benois, and depicted a poet of mature years, sitting at an enormous grand piano, musing on the many loves of his life, and playing music that both reminded him of their beauty, and also brought them magically to life, so that he could dance with each of them in a variety of musical styles.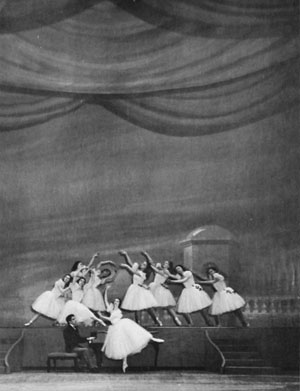 A Scene from Mlhaud's La Bien-Aimée, Markova-Dolin Ballet, 1937.
Benois' choice of music also included Liszt's Sposalizio and the Grand Galop Chromatique, and in all the ballet contained eight substantial numbers, played from the opera-house pit by a full orchestra and, most unusually, a Pleyela player piano. In his autobiography, Notes Without Music, Milhaud himself explained that his mission was to render Liszt's arrangements of Schubert, already difficult enough, even more virtuosic and complex, and for that he had decided that he needed the assistance of music rolls. Unfortunately, he reports that at the early performances the Pleyela was completely inflexible, so that the conductor had to follow it "as if it had been the most implacable soloist imaginable."
A Pleyela Cabinet Player and Grand Piano in 1906.
The rolls for the 1928 and 1929 performances were arranged by Jacques Brillouin, a former roll editor at Pleyel, and President of the co-operative which produced the series of music rolls known as Les Compositeurs Associés. It seems likely that Brillouin also took charge of the Pleyela during these early performances, which extended to Monte Carlo, La Scala in Milan, and even to the Royal Opera House in London, in July 1931. Certainly, the poster for the Milan performance gives him due credit for the arrangement.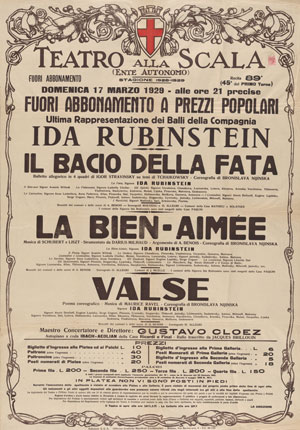 La Bien-Aimée at La Scala, Milan, 17 March 1929.
Happily, at least some of today's pianolists are able to follow conductors quite rigorously if necessary, so the music of Milhaud's ballet no longer presents such problems of ensemble. But for many decades an insuperable problem remained, in that both Milhaud's manuscript score and the original music rolls went missing. The publishers, Universal Edition in Vienna, were unable to locate a working score, and in the end it was the help of an experienced librarian and good friend, John Shepard, which helped Rex Lawson trace the composer's score to the Library at NorthWestern University in Evanston, Illinois. After a visit from Rex in late 2003, the Library kindly made two full-colour copy manuscripts, hard-bound, and on archival paper, and they despatched the two by UPS, one to the Pianola Institute in London, and the other to Universal Edition in Vienna.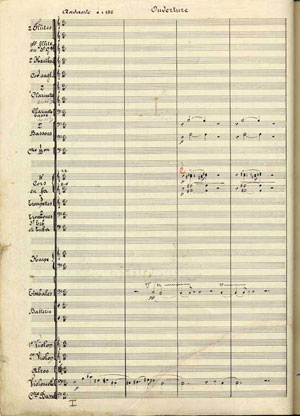 The First Page of Darius Milhaud's La Bien-Aimée.
And there the plot might have ended, since any player piano enthusiast will know how difficult it can be to enlist the help of the professional musical world. All too often, pianola concerts are only brought to fruition by the participants waiving all fees, printing the publicity with the aid of their domestic computers, and rehearsing in public halls at times when other musicians have long since been asleep. But not so on this occasion! Thanks to a long-term friendship with Enrique Mazzola, Music Director of the Orchestre National d'Île de France, Rex Lawson was able to explain and demonstrate the potential of this remarkably melodious ballet, and in the end seven performances were programmed during the Orchestra's 2015-16 season, in Paris and its surrounding areas.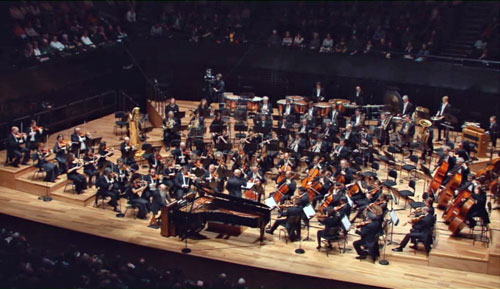 La Bien-Aimée in concert at the Philharmonie de Paris, 8 April 2016.
Rex transcribed and perforated new music rolls, using Milhaud's orchestral score, often quite difficult to decipher, since it seems likely that a special score for the Pleyela would originally have been written, with the notes rather larger than the space halfway down a full orchestral score allows. In addition it was decided to add a pianola part to the final movement, the Grand Galop Chromatique, mainly because the ballet suite in concert is more like a concerto, with all the musicians in full view on stage, rather than an anonymous accompaniment in an invisible orchestra pit.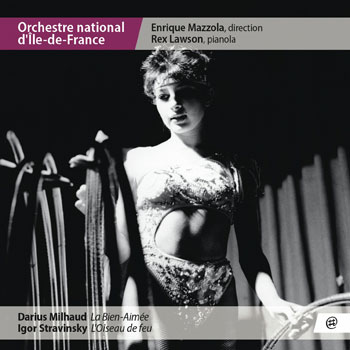 CD of La Bien-Aimée, published by NoMadMusic, NMM 051.
The CD mentioned above was recorded in the autumn of 2016 at the ONDIF rehearsal studio in Alfortville, to the south-east of Paris, and it was published in May 2018 by the French recording company, No Mad Music. In its first month the recording attracted a significant number of very favourable reviews, as well as being broadcast no fewer than ten times on French radio stations. At present (June 2018) downloads and physical CDs are widely available on the internet, from Amazon and many other sources, and the CD is coupled with the 1945 concert suite of Stravinsky's Firebird, all eloquently directed by Enrique Mazzola. As a postscript, it is pleasing to note that both the principal trombone and one of the violas of the Orchestre National d'Île de France are now the proud possessors of fine Blüthner and Weber pianolas respectively, inspired by their encounter with Milhaud's effervescent orchestrations!